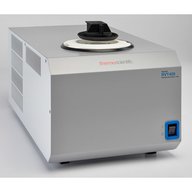 Savant RVT450 Refrigerated Vapor Cold Trap
RVT450-230
Thermo Scientific Refrigerated Vapor Traps are reliable, easyto-use, benchtop cold traps for solvent vapor condensation and collection.
Mechanically refrigerated vapor traps replace dry ice/methanol traps, and are the simplest, most practical, and safest way to protect high-vacuum, rotary vane oil pumps in a vacuum system.
Solvents are removed from samples during vacuum evaporation with a SpeedVac™ Concentrator and are collected in the CFC-Free Refrigerated Vapor Trap.
Solvent vapors pass into a Glass Condensation Flask and condense on its walls, preventing the vapors from reaching the oil pump and causing degradation.
Details
Rapid cooling time minimizes waiting period

Easy to remove glass flask for quick solvent changes

Rapidly cools to operating temperature

Easy to use glass condensation flask allows for the collection of liquid into a self-contained jar for easy draining

Sealed refrigeration system eliminates consumable coolants such as dry ice and acetone
Features
Refrigeration
Availability
New price
£3256.00
Manufacturer's list price. Please call our sales office for potential discounts that may apply.