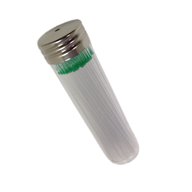 Seraquick - Capillary cuvettes (Pack of 600)
UK 105 000
Highest quality and precision for the determination of Newborn Bilirubin on Pfaff Bilimeters
Details
Contains: 6x100 pcs.
These are the only capillaries that will work with the Bilimeter.
It is a photometric measurement, the diameter and glass thickness is essential for the measurement quality.
Compatible with: Bilimeter 3D with printer, Bilimeter 3D without Printer
Availability
New price
£85.00
Manufacturer's list price. Please call our sales office for potential discounts that may apply.