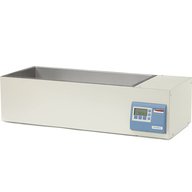 Precision 35L Circulating Bath
TSCIR35
CIR 35 Water Bath
Details
Precision circulating water baths are an ideal choice when temperature uniformity and control are particularly critical, as when working with enzymes or in serological applications. Available in three different models, these high performance baths range in capacity 19 L, 35 L, and 89 L. The advanced temperature controller provides ±0.05°C uniformity at 70°C and stability of ±0.1°C with stainless steel gable cover.
Additional features:
• Achieve enhanced temperature uniformity with perimeter-directed water flow
• Easily clean and maintain bath with coil-free internal design
• Optimize scheduling with auto-on and auto-off timers
• Accommodate taller labware with new hinged lid and extended height
• Help prevent bath overheating and damage with low-fluid protection
• Easily operate and monitor with icon-based graphical display
• Protect your work with audible alarms
• Baths include stainless steel gable covers, diffuser tray, and rubber duck
• UL Listed and CE Marked
Chamber Capacity: 35 Liter
Temperature Range: Amb. + 5°C to 100°C
Stability: ±0.1°C / ±0.05°C
Work Area: 12 x 27.3 x 7.6 in. (305 x 692 x 192 mm)
Overall Dimensions Without Cover (L x W x H): 15.5 x 36.9 x 9.8 in. (394 x 938 x 249 mm)
Voltage: 100-115V/200-230V, 50/60Hz
Heater Output: 1200W
Weight 31 kg (68 lbs)
Availability
Available as New
Please call our sales office or request a quote online for pricing/discount information.