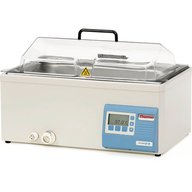 Precision 28L GP Bath
TSGP28
GP 28 Water Bath
Details
Precision general purpose water baths are rugged, high performance baths that are designed to maintain water temperature from ambient to 100°C. Ideal for a wide range of lab applications, capacities range from 2L to 28L, including shallow models. Over-temperature safety circuitry is designed to prevent thermal runaway, while new auto-on and auto-off timers allow you to optimize operation schedules. Benefit from outstanding chemical and corrosion resistance with epoxy powder-coated exterior, and easily clean the chamber with its seamless stainless-steel interior.
Additional features:
• Smaller footprint, compared to previous models, frees up valuable benchtop space
• Advanced microprocessor controller is designed for extended functionality
• Protect your work with audible alarms
• Conveniently save commonly used settings with four temperature presets
• Baths come with clear polycarbonate gable cover, diffuser tray, drain hose and rubber duck
• UL Listed and CE Marked
Chamber Capacity: 28 Liter
Temperature Range: Amb. to 100°C
Stability: ±0.1°C / ±0.2°C
Work Area: 11.7 x 19.7 x 7.9 in.(297 x 500 x 200 mm)
Overall Dimensions Without Cover (L x W x H): 15.4 x 21.8 x 11.1 in. (392 x 555 x 282 mm)
Voltage: 100-115V/200-230V, 50/60Hz
Heater Output: 1200W
Weight 14 kg (30 lbs)
Availability
Available as New
Please call our sales office or request a quote online for pricing/discount information.