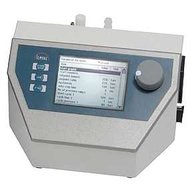 Vacuum Control Box
600053
Benchtop unit as digital, chemistry-resistant vacuum stabilizers.
With integrated sensor, ventilation-, control- and check valve.
Details
Ceramic sensor: integrated
Accuracy in sum linearity, hysteresis, reproducibility: < +-0.3% FS
Sensor signal: 0.5 to 4.5 V (optionally also 4..20 mA by jumper possible)
Pressure indicator: digital or graphically
Switching- / control accuracy: ±1 digit
Output signal: digital 24 VDC
Communication interface: RS 232, SUB-D plug 9-pole
Operating voltage: 90-264 VAC, 50/60 Hz, 30 W
Output voltage: 24 VDC
Protective system: IP 20
Working temperature: 15 to 40°C
Fuse (internal controller): 5 A
Connection vacuum apparatus: Hose nozzle DN 8
Connection vacuum pump: Hose nozzle DN 8
Connection inert gas: Hose nozzle DN 4
Connection water valve: Binder plug 4-pole 24V DC
Filling level sensor: option
Availability
New price
£850.00
Manufacturer's list price. Please call our sales office for potential discounts that may apply.