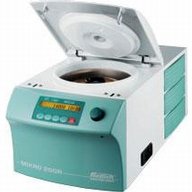 Hettich Mikro 200R
C2405
High-speed 14,000 RPM refrigerated 24 Place microlitre centrifuge, with Fast Cool function (+4°C within 10 to 15 minutes) for microlitre samples. 2 year warranty
Details
Cool sprinter
The Mikro 200 and 200R rank among the fastest centrifuges in their class with a maximum speed of 14,000 RPM and an RCF of 18,626. Not only are they fast, the Mikro 200R also refrigerates quickly: to +4°C with the Fast Cool function in 10 to 15 minutes.
Even thermosensitive samples can be gently centrifuged thanks to highly reliable refrigeration. Best separation results are guaranteed with the smooth-running, high-performance motor featuring a maintenance-free frequency drive. With the autoclavable and aerosol-tight accessories, even infectious materials can be processed safely for both the user and the environment.
Features
Refrigeration
Typical capacities
24 x Microlitre 0.2-2ml
Availability
New price
£5641.00
Manufacturer's list price. Please call our sales office for potential discounts that may apply.
Accessories for Hettich Mikro 200R
| | |
| --- | --- |
| Angle rotor for 4 strips of 8 x 0.2 ml PCR tubes (without lid-E2040) | |
| Optional rotor lid for A2418 rotor | |
| 20 Place Angle Rotor for 12.5 x 36mm Cryo Tubes | |
| | |
| Angle rotor 30-place with standard lid for microlitre tubes 0.2-2.0 ml, angle 40° &... | |
| Lid for rotors A2424, A2430 and A1420 (phenol resistant, aerosol tight and autoclavable) | |
| Lid for rotors A2424, A2430 and A1420, (aerosol tight and autoclavable) | |
| Adapter 1-place for microlitre tubes 0.5/0.8 ml (6 pcs.) | |
| Microtube 0.4ml Beckman (pack of 1000) | |
| Microtube 0.5ml RNAse free (pack of 1000) | |
| Microtube 0.5ml RNAse free (pack of 1000) | |
| Adapter 1-place for microlitre tubes 0.2/0.4 ml (6 pcs.) | |
| Adapter 1-place for microlitre tubes 1.5 ml (6 pcs.) | |
| Microtube 1.5ml yellow (pack of 5000) | |
| Microtube 1.5ml blue (pack of 5000) | |
| Microtube 1.5ml green (pack of 5000) | |
| Microtube 1.5ml pink (pack of 5000) | |
| Microtube 1.5ml Twist Lock (pack of 5000) | |
| Microtube 2.0ml Polypropylene (pack of 500) | |
| Microtube 1.5m threaded and not skirted (pack of 500) | |
| Cap with integral O ring for above (pack of 500) | |
| Professional Flight Case for safe and easy transportation | |
| For 1.5-2.0 ml tubes | |
| Lid bio-containment, autoclavable & phenol-resistant | |
| Lid bio-containment, autoclavable & phenol-resistant | |