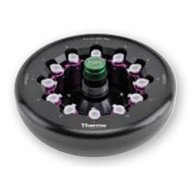 MT-12
75005600
Unique design capable of spinning up to 12 x 1.5/2 mL microtubes and filtration columns, ideal for small volume research applications.
Details
Compatible with: Sorvall ST 8R, Thermo Scientific Sorvall ST 8, Heraeus Megafuge 8, Thermo Scientific SL8, Heraeus Megafuge 8R, Sorvall ST8FR
Availability
New price
£2158.00
Manufacturer's list price. Please call our sales office for potential discounts that may apply.