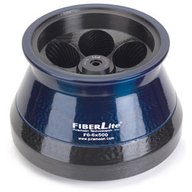 F10J-6x500y
096-062126
Compatible with KR22i
Details
Catalog No. 096-062126
Model F10J-6x500y
Max. Speed 10000
Max. g-force 17696
k factor 3413
Rotor Mass 12.06 kg (26.58 lbs.)
Liquid Containment Yes
Warranty: 15 Years
Will Replace AK 500.11
Will Spin In KR22i
Rmax 158
Rmin 41
Tube Angle 23
Application This rotor is designed for pelleting bacterial cells from tissue culture, pelleting debris and plant life from water pollution studies, pelleting
particles from other types of homogenates, and clarifying lysates.
Refresher Kit 021-062126
Extraction Tool 017-062126
Lid O-rings 022-062126
Lid Assembly 099-062126
Compatible with: Jouan KR22i
Availability
New price
£8415.00
Manufacturer's list price. Please call our sales office for potential discounts that may apply.