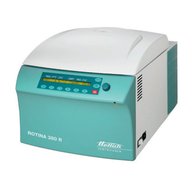 Hettich Rotina 380R
C1706
The high-performance bench-top centrifuges Rotina 380 and Rotina 380R impress by state-of-the-art technology, large capacity, extremely easy handling and exceptionally smooth and quiet running.
Details
The ROTINA 380 and 380 R centrifuge models are ideally equipped to take on these challenges. Their high performance and advanced features set standards among the benchtop centrifuges in their class.
Samples with capacities of up to 4 x 290 ml can be processed in these high-performance centrifuges with a max. RCF of 4,863. Should higher speeds be required, angle rotors with a max. RCF of 22,789 for 50 ml culture tubes are available. Accessories with bio-containment protect users from aerosols while ensuring optimal safety, for instance, while centrifuging infectious samples.
● High capacity
· max. 4 x 290 ml
· max. 32 x 15 ml
● High RCF
· up to 22,789 for 50 ml tubes
· up to 16,504 for 94 ml tubes
· up to 24,400 for reaction tubes
Features
Refrigeration
Typical capacities
144 x Microlitre 0.2-2ml
64 x Blood tube 4-7mm (13mm)
52 x Blood tube 7-10ml (16mm)
36 x Conical 15ml
16 x Conical 50ml
20 x Universal 25ml
2 x 96 well microplate
Availability
New price
£9278.28
Manufacturer's list price. Please call our sales office for potential discounts that may apply.
Accessories for Hettich Rotina 380R
| | |
| --- | --- |
| Rolling cabinet for Hettich centrifuge, high and narrow, sturdy design featuring castors... | |
| Rolling cabinet for Hettich centrifuge, low and narrow with one drawer, sturdy design... | |
| 4 place swing out rotor | |
| 250 ml sealable metal bucket | |
| Insert for 12 tubes 12 x 75 mm - 100mm | |
| Insert for 12 tubes 12 x 100 mm | |
| Insert for 8 x 4ml - 10ml blood collection tubes (diameter up to 17mm) | |
| Insert for 4 tubes 24 x 100 mm | |
| 30ml Universal tubes, no label - polystyrene (pack of 400) | |
| 30ml Universal tubes, no label - Polypropylene (pack of 400) | |
| 30ml Universal tubes, printed label - Polypropylene (pack of 400) | |
| 30ml Universal tubes, plain label - Polystyrene (pack of 400) | |
| 30ml Universal tubes, with spoon, label - Polypropylene (pack 400) | |
| 30ml Universal tubes, with boric acid, no label - Polypropylene (pack of 400) | |
| 30 ml Universal, labelled - Polystyrene (pack of 400) | |
| Insert for 1 tube 34 x 100 mm | |
| Insert for 1 tube 44 x 100 mm | |
| Insert for 1 tube 40 x 115 mm | |
| Insert for 1 x 250 ml glass tube | |
| Insert for 7 x 15 ml Falcon tubes | |
| 15ml Graduated centrifuge with screw cap (pack of 500) | |
| Insert for 2 x 50 ml Falcon tubes | |
| 50ml Conical Sterile Polypropylene Centrifuge Tube With Screw Cap (Pack of 500) | |
| 50ml Conical Sterile Polypropylene Centrifuge Tube With Screw Cap (Pack of 20) | |
| Insert for 3 x 25ml conical tubes | |
| Insert for 2 x 50ml Falcons tubes | |
| Insert for 8 x 1ml - 5ml blood collection tubes (diameter up to 13mm) | |
| Insert for 1 x 250 ml bottle 62 x 135 mm | |
| Insert for 7 tubes 17 x 100 mm | |
| Sealing Lid for A5092 | |
| | |
| Metal bucket | |
| Insert for 40 x 1.5-2.2 ml microtubes | |
| Microtube 1.5ml' flat top' (pack of 1000) | |
| Microtube 1.5ml yellow (pack of 5000) | |
| Microtube 1.5ml blue (pack of 5000) | |
| Microtube 1.5ml green (pack of 5000) | |
| Microtube 1.5ml pink (pack of 5000) | |
| Microtube 1.5ml Twist Lock (pack of 5000) | |
| Microtube 2.0ml Polypropylene (pack of 500) | |
| Microtube 1.5m threaded and not skirted (pack of 500) | |
| Cap with integral O ring for above (pack of 500) | |
| Insert for 16 x 1.5-2.2 ml microtubes | |
| Insert for 20 blood collection tubes 8 x 66 mm | |
| | |
| | |
| Insert for 12 blood collection tubes 15 x 75 mm | |
| Insert for 12 blood collection tubes 15 x 92 mm | |
| Insert for 5 tubes 24 x 100 mm | |
| Insert for 2 tubes 34 x 100 mm | |
| Insert for 1 tube 40 x 115 mm | |
| Insert for 1 tube 44 x 100 mm | |
| Insert for 12 blood collection tubes 13 x 65-75 mm | |
| Insert for 11 blood collection tubes 16 x 92 mm | |
| Insert for 7 x 15 ml Falcon tubes | |
| Insert for 5 x 30ml conical tubes | |
| Insert for 2 x 50 ml Falcon tubes | |
| Double stage insert for cyto slide carriers | |
| Does not include the Angled chamber and Filter card | |
| | |
| Pack of 200 Filter cards for 1,2 and 4ml Cyto chambers. | |
| Filter cards for 1ml, 2ml and 4ml cyto chambers. | |
| | |
| | |
| | |
| Filter cards for 8ml cyto chamber. | |
| Filter cards for 8ml cyto chamber. | |
| | |
| Filter cards for 3 x 2ml cyto chamber. | |
| Filter cards for 3 x 2ml cyto chamber. | |
| | |
| Filter cards for 4 x 1ml cyto chamber. | |
| Filter cards for 4 x 1ml cyto chamber. | |
| | |
| Lid for bucket A5051 | |
| 6 place swing out rotor | |
| Plastic bucket for 2 x 20 ml tubes 21 x 100 mm | |
| Plastic bucket for 4 x 15 ml tubes 17 x 100 mm | |
| Plastic bucket for 5 x 9 ml tubes 14 x 100 mm | |
| Plastic bucket for 17 x 5 ml tubes 13 x 75 mm | |
| Plastic bucket for 10 tubes 8-14 x 66-100 mm | |
| Plastic pad for 8 ml tubes | |
| Plastic bucket for 7 tubes 13-17 x 75-120 mm | |
| Rubber pad for 15 ml carriers | |
| Insert for 2 x 25 ml tubes 25 x 92-100 mm | |
| Insert for 1 x 50ml tube 34 x 100 mm | |
| Rectangular bucket | |
| Insert for 12 tubes 10 x 60 mm | |
| Insert for 30 tubes 6 x 45 mm | |
| Insert for 9 x 1.5-2.2 ml microtubes | |
| Insert for 12 tubes 12 x 60 mm | |
| | |
| For bucket A1660 | |
| 10 place swing out rotor for Falcon tubes | |
| Insert for 15 ml Falcon tube | |
| Swing out rotor for microtitre plates - without carriers A1753 | |
| Carrier for microtitre plates on rotor A1760 | |
| U' Well Microtitration plate (pack of 100) | |
| F' Well Microtitration plate (pack of 50) | |
| V' Well Microtitration plate (pack of 100) | |
| Lid for Microtitre plates (pack of 50) | |
| 8 Place swing-out rotor for use with buckets 1680 for cytology | |
| Angle Rotor, 6 Place | |
| Insert for 1 x 50 ml tube 29 x 105 mm (inc. 50 ml Oakridge) | |
| Insert for 1 x 30 ml tube 26 x 95 mm (inc. 30 ml Oakridge) | |
| Insert for 2 x 10 ml tubes 16 x 75mm | |
| Suspension 1 x 1.6 - 6 ml | |
| Suspension 1 x 4 - 10 ml | |
| Insert for 4 microtubes | |
| Insert for I tube 16-17 x 75-100 mm | |
| Insert for 1 x 50 ml Falcon tube | |
| Insert for 1 x 15 ml Falcon tube | |
| Insert for 1 x 75 ml tube 35 x 105 mm | |
| Adapter 1-place for 5 ml tubes, conical, fitting into rotors 1792, 4794 and 5615 | |
| 6 Place Angle Rotor | |
| 4 place swing out rotor (shown with A1752 buckets, A1751 lids and adapters) | |
| Round metal bucket 290ml | |
| Sealing lid for bucket A1752 | |
| Set of 4 seals for 1751 | |
| Adapter for 36 x 1.5-2.0ml microtubes, two layers of 18 tubes each | |
| Adapter for 24 x 12mm x 60-100mm tubes | |
| Adapter for 13 x 17mm x 70-125mm tubes | |
| Adapter for 6 x 24mm x 100mm tubes | |
| Adapter for 3 x 35mm x 105mm tubes | |
| Adapter for 1 x 44mm x 100mm tube | |
| Adapter for 1 x 40mm x 115mm tube | |
| Adapter for 1 x 65mm x 115mm tube | |
| Adapter for 1 x 62mm x 122-137mm 250-290ml bottles | |
| Adapter for 9 x 17mm x 120mm tubes (15ml conical) | |
| Adapter for 4 x 29mm x 115mm tubes (50ml conical) | |
| Adapter for 9 x 17mm x 100mm tubes | |
| Adapter for 4 x 29mm x 107-115mm tubes (50ml skirted) | |
| 50ml Conical centrifuge tube with screw cap skirted (pack of 500) | |
| Adapter for 6 x 26mm x 95mm tubes | |
| Adapter for 2 x 38mm x 106mm tubes | |
| Adapter for 1 x 62mm x 130-144mm (Nalgene 175 & Nunc 200ml conical) | |
| Adapter for 5 x 25mm x 90-110mm tubes (Universal) | |
| Adapter for 24 x 8 x 66 (mm) tubes | |
| Adapter for 1 x 61mm x 118-137mm (Falcon 175/225ml conical) | |
| Adapter for 16 x 13mm x 65-100mm tubes | |
| Adapter 19-place for 4 - 10 ml tubes | |
| Adapter 8-place for 4 x 15 ml tubes | |
| Drum rotor without racks, Includes lid | |
| Rack for 10 x 1.5-2.2 ml microtubes in drum rotor | |
| Rack for 32 x 0.4 ml microtubes in drum rotor | |
| Microtube 0.4ml Beckman (pack of 1000) | |
| Microtube 0.5ml RNAse free (pack of 1000) | |
| Microtube 0.5ml RNAse free (pack of 1000) | |
| Rack for 21 x 0.5-0.8 ml microtubes in drum rotor | |
| 30 place high speed angle rotor, aerosol tight and autoclavable | |
| Adapter 1-place for microlitre tubes 0.5/0.8 ml (6 pcs.) | |
| Adapter 1-place for microlitre tubes 0.2/0.4 ml (6 pcs.) | |
| Adapter 1-place for microlitre tubes 1.5 ml (6 pcs.) | |
| Pediatric tube adapter | |
| Angle Rotor, 8 Place | |
| Insert for 4 x 12-15ml tubes in rotor A1721 | |
| Adapter for tubes with Hemogard-cap | |
| Insert for 1 x 50ml tube in rotor 1418 | |
| Professional Flight Case for safe and easy transportation | |
| Fitting into ROTINA 380 and 380 R | |
| | |
| Sealing lid for bucket A4623 and A4745 | |
| Plate carrier for buckets A4623 and A5628 | |
| | |